Proud to feed
Farmers Coop Feeds


Ask me about our Millcreek Spreader
Attending Veterinarians:
Dr. Gary J. Kubala, V.M.D.
Dr. Phillip R. Hunt, M.S., V.M.D.

Attending Farrier:
Richard Shipley

In Memory of...
Forever In Our Hearts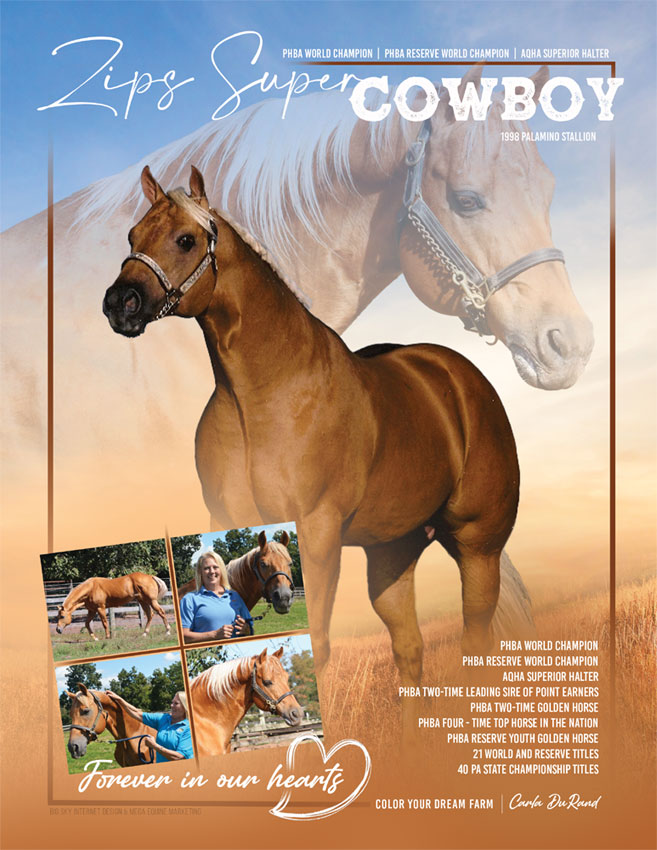 ---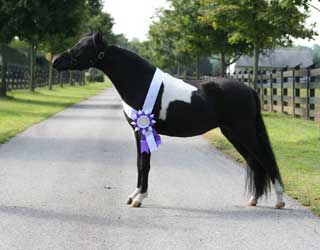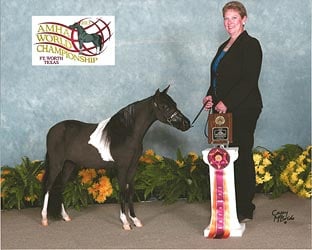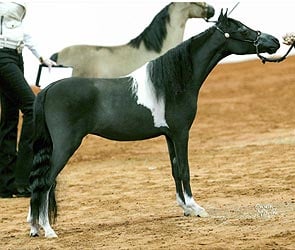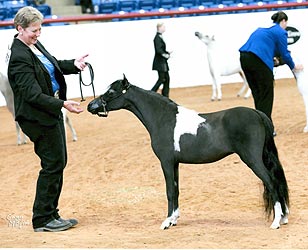 Coolest Spotacular Diva
"Panda"
2012 - 2021

May 9, 2012 AMHA/AMHR Black Pinto Filly
Sire: Ravenwood Spotacular Allusion, AMHA World Top Three
Dam: Sunny Valleys Purty Girl, by Lucky Four Gallahad Gusto

2013 Reserve Champion Open Yearling Mares Over 30-32 at the Eastern Championship Show
2013 AMHA World Top Ten Mare in Amateur Yearling Mares, Level 1, Over 30-33 shown by Carla DuRand
2013 AMHA World Top Ten Mare in Open Yearling Mares Over 30-32 shown by Brian Hill


---
Rest in Peace Poppa Louie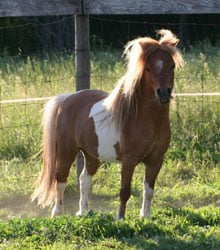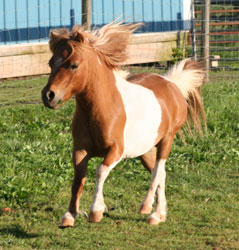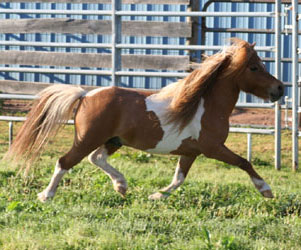 Poppa Louie
6/3/2005 - 4/27/2020
Ravenwood Spotacular Allusion
AMHA/AMHR AMHA
World Top 3 Halter Stallion
AMHA World Top Ten Sire
2005 Sorrel pinto Stallion
32.5 inches

We were honored to own such a wonderful little stallion.
He has sired many beautiful foals.
We have 3 of his daughters and a few granddaughters.
He can now be free of his pain and run with all the mares he wants .
We love you buddy



---
In Memory of...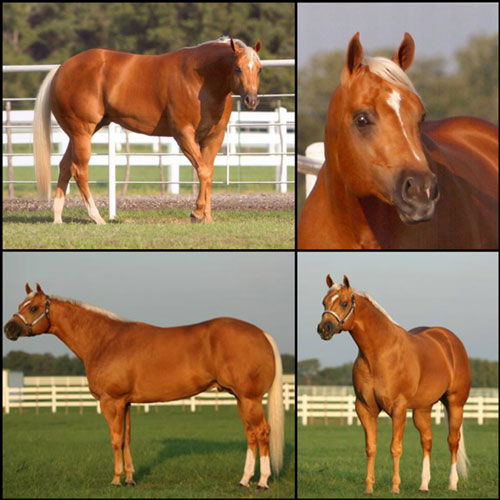 Morrison
2004 - 2017

Our deepest heartfelt condolences go out to Jessica L. Williamson and CarolBuddy Brown on the passing of the incredible Cowboy son, Morrison.
I know how much he was loved and I'm sure all of our Cowboy family expresses their deepest sympathies for your loss of this gorgeous golden stallion.
Run free Morrison ..... heaven has gained a special golden one


---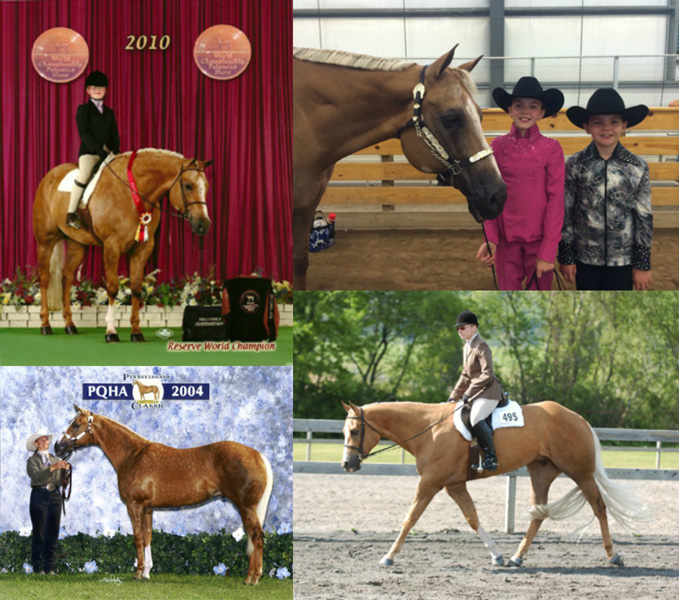 Gold Credentials, "Dude"
Jan 13, 2003 – August 21, 2016

Heaven gained a VERY special horse today.
Where to start ??? How often does a horse like this come in to someones's life ? Not just one someone, but many people were blessed to have had Dude be part of their lives. This gentle giant will be remembered by many.
When Mom sent me down to Texas to meet Cowboy and complete the purchase….. I saw a huge, awesome weanling colt. I knew immediately he had to come up to PA with Cowboy. I asked to see him move and as I stood in the aisle of the barn I called Lea Ann to tell her I found her next all-arounder. I remember telling her there was only one thing…. his head was not Bucky's, but he would grow into it. Lea Ann wasn't quite ready to give up showing her buckskin yet, so Mom bought Dude for me to show halter and I prepared him to be Lea Ann's next show gelding.
I had a great time showing him halter. He was such an easy horse to haul and show.
Dude began his show career with LeaAnn (and Kayla) as a 3 yo and the rest is history !
Multiple PHBA World and Reserve World Champion.
Four Time PHBA Top Horse In The Nation. Open .Amateur and Youth.
7500+ AQHA and PHBA points.
NSBA money earner and futurity winner.
Dude earned his sire 2 big trophies from AQHA for the PHBA High Point Sire of Point Earners in addition to the numerous saddles, buckles, trophies and other awards.
Dude came back to me April of 2015. I debated showing him myself again, but just didn't really have the time. So, I leased him to Kim Bailey for her and her daughters, Devyn and Maddy to love and show. They attended a few AQHA shows and both girls qualified for and showed at States last year. They had big dreams for him this show season, but that wasn't meant to be.
Thanks for the ride Dude….it was GREAT !!!



---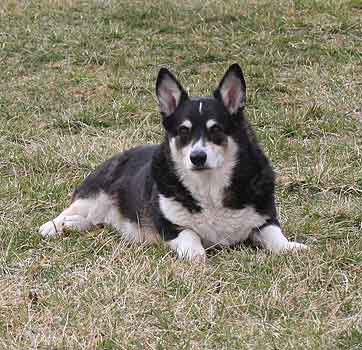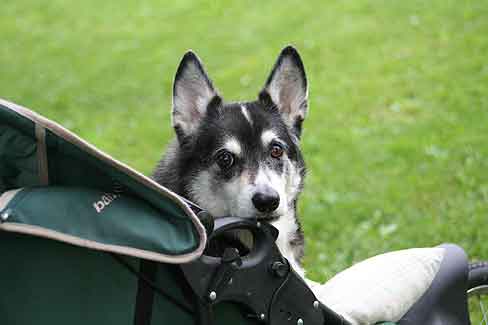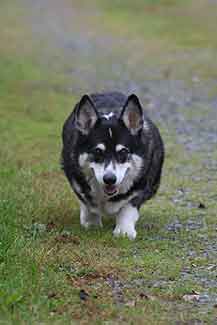 Chance
"Farm Greeter"
March 17, 1999 - November 11, 2014
He was a good boy and will be deeply missed.


Princess Nicole
"Nicki"
March 21, 1998 – February 21, 2013
Forever In My heart

I Only Wanted You
They say memories are golden
well maybe that is true.
... I never wanted memories,
I only wanted you.
A million times I needed you,
a million times I cried.
If love alone could have saved you
you never would have died.
In life I loved you dearly,
In death I love you still.
In my heart you hold a place
no one could ever fill.
If tears could build a stairway
and heartache make a lane,
I'd walk the path to heaven
and bring you back again.
Our family chain is broken,
and nothing seems the same.
But as God calls us one by one,
the chain will link again.
---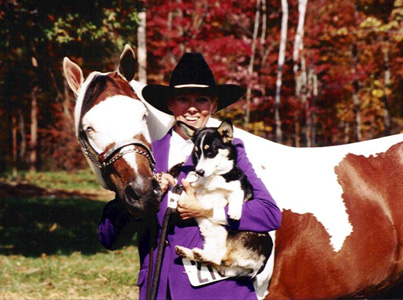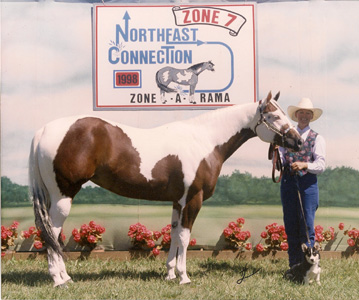 Texas Bar Maid
March 17, 1996 - September 7, 2010
Bay Tovero Mare
by Bar Dude - APHA Champion
out of Eyes Of Texas - Halter Point Earner
Earner of 318 APHA and PtHA Halter Points

.....and she looked deep into my eyes,
and she said YOU have always been the center of my universe, I have loved YOU always.
I pressed my head into her neck and assured her that I was here as I had always been here.
and she looked deep into my heart,
and she asked me "How much do you love me?"
... and I stroked her face, soothingly & she closed her eyes and I replied
"With all my heart"
and then, she looked deep into my soul,
and she asked me...
"Do you love me enough to let me go?"
And I held her close and replied softly................. YES.

Heavens glorious pastures now have the most beautiful mare I have ever laid eyes on.
"Blue"...You are free from your pain. My heart is broken. Yet, my mind's eye sees you running and bucking and leaping, and as much as I will miss you, I know you are in a better place. I sure hope I get to be with you again someday.
Ed had no experience with horses at all until I purchased the farm in 1997. Mom, Ed, my brother and his fiance and her brother all helped get ready for the horses by building fence, etc... Ed was a natural when it came to handling the horses because was very laid back and quiet with them. He was great in teaching the foals to lead. He built a cabin in the woods here, and loved to hunt and just spend time out in "his" woods.

When we purchased Cowboy in 2003, it was a "family" thing. I handled the stallion, Ed collected him and Mom prepared everything prior to collecting and for shipment. Ed loved to groom Cowboy and lead him in and out for exercise. He just adored that horse !! I was hoping he would show a foal out of our first foal crop in the futurities, but that plan was changed. Ed was diagnosed with lung cancer last fall and it progressed rapidly.

Ed passed away on July 23, 2005. We will all miss Ed and the special way in which he helped add to the success of Color Your Dream Farm.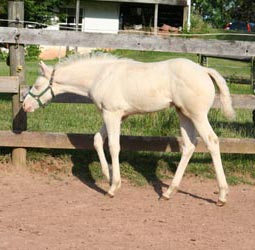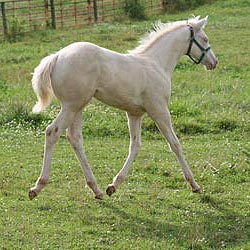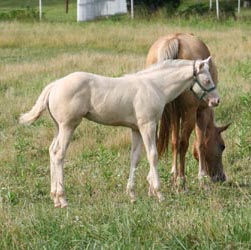 Xtreme Cowboy
"Colt McCoy"
April 24, 2013 - Oct. 13, 2013
AQHA/APHA Cremello colt
Sire: Zips Super Cowboy
Dam: Star Crossed Rose, by Mr Yella
Click here to view video.
Even though Colt was only with us a short time he was a very special colt. He was a perfect little man and I had such high hopes for him.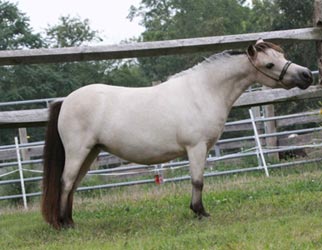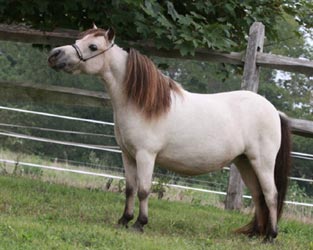 Sunwoods Ballerina
2006 – July 22, 2014
AMHA/AMHR Buckskin Filly
31 inches
Sire: Lucky Four Gallents Rebel Buck
Dam: Little Kings Russian Rhapsody, by Little Kings White Russian
Bali we will miss your dearly as you were such a kind and sweet little mare and gave us the most beautiful foals.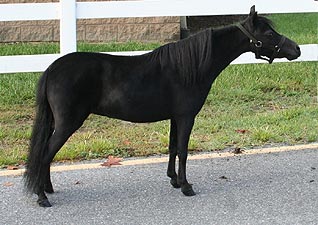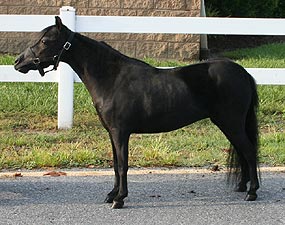 Double Diamond Magnificent Miracle
2006 AMHA / AMHR Black Mare
*DNA Tests confirm that Emma is EE, homozygous for the black gene*
31 inches
Sire: Scott Creek Monarch Magnificent
Dam: Meadowviews Black Lady
Her sire is sired by Sierra Dawn Unos Monarch who was an AMHA National Yearling Futurity Champion and AMHA National Champion Yearling Stallion.
He came back as an adult and was an AMHA National Champion Senior Stallion.
Her dam is sired by a son of the famous L&D Scout - Fallen Ash Scouts Thief Of Hearts.
Emma was the sweetest little mare. We are heartbroken to lose her at such a young age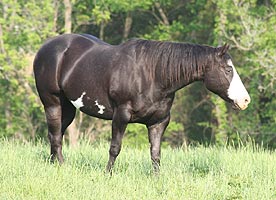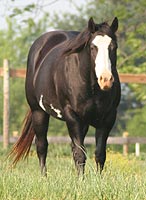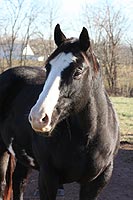 Ultimate Impress
1997-2010
Sire: Obsesed To Impress
Dam: Midnightrendezvous
APHA Superior Halter Mare with 142 points
She foaled a Palomino Filly 4/23/08.
Foaled a sorrel overo filly by Zips Super Cowboy April 22, 2009!!
Josie was laid to rest April 7, 2010. She had battled recurrent uveitis for over an year and was now blind....she turned for the worse and we made the decision to let her go to heaven where she could see her buddies again and be pain free. She left me with one whopping palomino halter filly to carry on her legacy. Josie in her younger years was a fantastic halter show mare - as a broodmare she was kind and sweet and a great mother. We miss you and love you Josie and will never forget you.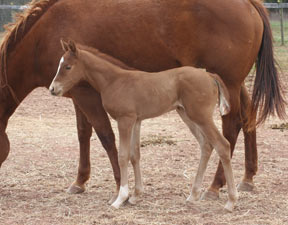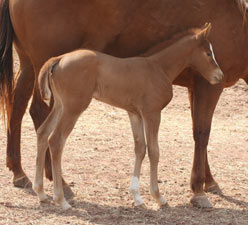 3/20/08-4/5/08 Sorrel Filly
Sire: Zips Super Cowboy
Dam: Anissas Cool Image, by Image of Kid
We lost Ami on April 5th. She will be missed greatly even though she was only with us for a short while.
She was a gorgeous and sweet filly.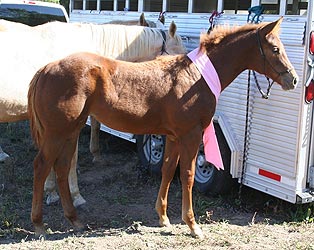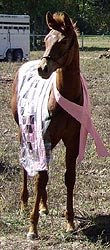 "Chance"
May 1, 2007 - Oct. 31, 2007
Out of Wendwood Wisper
Owned by Anna Bert in Chambersburg, PA
We extend our deepest sympathies to the Bert family on the loss of their gorgeous filly 'Chance' on October 31, 2007. The Berts spent many hours working with this sweet young filly acclimating her to the many things she'd encounter on the trails of the Gettysburg National Battlefield so that Chance could accompany them as they participated in "Ride The Trail To A Cure" on September 29th. This benefit ride raised over $21,600 for two organizations - Breast Cancer Awareness/Cumberland Valley and the Pennsylvania Breast Cancer Coalition.

Ann and her daughter Meagan raised nearly $2,000 with a handmade quilt. For a donation, the names of breast cancer survivors, patients and victims were embroidered on the quilt, and after the ride, the quilt was auctioned. Chance quietly carried this very special quilt throughout the ride, creating a unique legacy that will be always be remembered.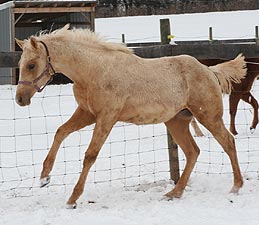 Zips Yella Fella
"CJ"
3/6/06 - 4/2/07
CJ we will miss you and we hope you find comfort and friends in heaven . You were a beautiful, special colt that we loved deeply!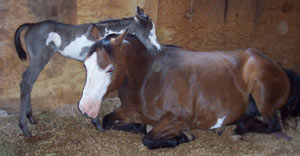 "Pewter"
4/20/05 - 4/23/05
by Zips Super Cowboy out of Miss Southern Grace
Our deepest sympathies and condolences go out to Bennie Lynn on the loss of Pewter.
ZIPS SUPER COWBOY I HORSES FOR SALE I BROODMARES I BABIES I WINNERS I MINIATURE HORSES
Our goal here at Color Your Dream Farm is to raise
"Halter Horses that Ride"

Caitlyn – farm greeter

Color Your Dream Farm
Quarter Horses & Paint Horses
Gettysburg, PA 17325
(717) 578-1625
cydfarm@comcast.net



Skipper – farm greeter
Now accepting payments through PayPal!


Click to make a payment
Color Your Dream Farm
All rights reserved.

Proudly Hosted and Designed by
Big Sky Internet Design, Inc.
dba, RockinB.Com